Better Decision Making with Checklists
Have you ever wished that you had a better process and set of criteria to apply before every purchase or sale? Have you ever made impulsive decisions that you soon came to regret? A recent bestseller - 'The Checklist Manifesto' - reviewed how many professions have reduced the risk of catastrophic failure by utilising simple checklists. Professionals from airline pilots to open heart surgeons have improved their decision making in pressurised situations by using this basic technique.
Managing an investment portfolio is no different and indeed, when it's your own financial future on the line, the pressure is surely even greater to make correct decisions. We have taken the checklist principle and applied it to the stock market, inverting traditional Stock Screening in the process.
How it Works - the flip side of stock screening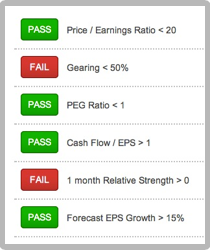 If you have a stock you are interested in, load it into the Checklist Tool and click an Expert Screening Strategy to compare it against. You'll see the list of investment criteria and whether the company in question passes or fails against each. It really is that simple to determine how closely a stock matches up against an investment strategy. We have preloaded the checklist tool with dozens of expert strategies allowing you to instantly find the potential flaws in an investment idea.
Stock Screening can be a blunt edged tool at times. It only finds candidates that match all of a set of criteria and only works from the 'top' down. Checklists work from the bottom up, and allow you to see how closely a specific stock ranks against different sets of investment criteria. Investing requires judgement, and a stock that is only a 'loose' fit to a set of criteria may still work out well.
Find the Weak Links in a Stock's Armoury
When presented with a page of detailed company accounts, how can you quickly check the most important vital statistics without being overwhelmed by extraneous detail? What if you forget to check a company's indebtedness, or its valuation? Or perhaps the stock's relative strength is poor? Checklists automate the process so that you can find the weak points with ease and concentrate on understanding the underlying issues.
Speed your Stock Research with Custom Checklists
Each Stock Report contains a few checklists pre-loaded to analyse things like the Financial Health Trend and Earnings Manipulation Risk. By opening the popups you can dramatically speed up the time taken to analyse company accounts.
Zero in on a company's profitability trend, the importance of cashflow, trends in debt, efficiency and more. The pre-loaded checklists are based on the work of esteemed financial academics and have never before been made available in public facing websites.
Compare against dozens of Strategy Checklists
If you've ever wished that you'd checked how a stock stacked up against Benjamin Graham, Warren Buffett, Bill O'Neill or another author's investment criteria, but never found the time, wish no more. You can do it in seconds with Stockopedia Checklists. Join Stockopedia and get started today.