Stock Research has Never Been Easier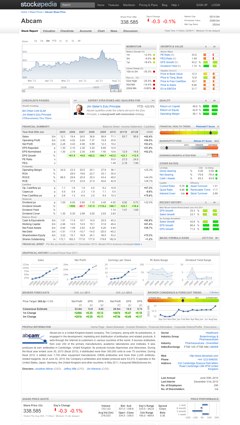 Have you ever had an investment idea and needed to check a company's fundamentals fast? Did you find navigating company accounts and investing websites laborious, time consuming and frankly boring? We did too, and decided to give investors all the key information needed to make a decision on a single page. Our goal is to deliver powerful analytical algorithms as simple visual tools so that you reap the benefits as an investor.
At the core of Stockopedia's offer are 7000+ Company Profiles covering all European markets elegantly presented with all the essential metrics investors need to make decisions. Read about the key highlights here, or read a full rundown of the thinking behind the Stock Reports.
TrafficLights™ - Peer Comparison at a Glance
Stockopedia's unique 'Traffic Light' system shows instantly whether a company's fundamentals are attractive compared against its sector peers or the market as a whole. With a focus on key Growth, Value and Quality indicators the TrafficLights™ provide an instant shorthand to improving your share selection and stockpicking. Data Visualisation at its most intuitive.
Measure Critical Financial Health Indicators
Could the stocks you own be at risk of bankruptcy? Is there a high probability that the accounts have been manipulated? Or is the company turning around from a poor situation? We help answer these questions instantly. We have turned high end academic research papers into intuitive and easy to use indicators making Stockopedia's company pages the best research tool for the UK stockmarket.
Discover Strategies each Stock Qualifies for
Instantly discover whether a company is qualifying for deep value screens, growth strategies or as a momentum play. We apply our screens every night to label every stock in the market with the strategies it qualifies for. At a glance you can see whether investors of a certain style will be interested in your stock.
Better Understand the Margin of Safety of your Stocks
How much headroom is there for a stock's valuation to appreciate? We take different perspectives on each company, providing Broker consensus valuations, the valuation relative to a Company's Sector, a 'Growth' or DCF valuation based on recent earnings growth, a worst-case Liquidation value and more. Whether you are a value or growth investor you'll gain a different perspective on your stocks and can tweak the models to reflect your assumptions.
Review Detailed Financial Statements Visually
Research the last 6 years of detailed financial statements for your desired companies. All the most important financial summary items are charted to bring the data to life enabling you to track the long term financial performance of stocks at a glance.
Compare Companies Side by Side
Struggling to decide if one company is a better investment than another? So were we, so we designed in functionality to easily compare side by side up to 5 companies across all the key financial statement metrics and investment ratios. You won't find this essential tool anywhere else. It takes just seconds to compare a company against sector peers or comparables.
Take a look through the City's Crystal Ball
Which companies are forecast to grow earnings the fastest? Which companies are having their forecasts upgraded ? The analysts in the City have unprecedented access to company management and their job is to craft accurate forecasts. Access detailed consensus broker forecasts, price targets and changes in sentiment.
Sell Indicators, Technical Analysis and More…
We have a great package for the modern investor with new tools constantly in development. for exclusive access to the best research & analysis tools on the market.
Data updated daily from Thomson Reuters, widely acknowledged as the best fundamental database in the business
Uniform presentation of all 2300+ UK stock market companies allowing easy comparisons
If you would like to know further about our Stock Reports, read the Full Guide to the Stock Report in the help section.